The Rollan NT sliding door system: tried-and-tested door fitting with new details
The GEZE Rollan NT sliding fitting system is the smart solution for sliding doors in residential areas. With its new, particularly light-running roller carriages, the system is even easier to move. A further innovation is the draw-in damper on one or both sides: this can easily be retrofitted to Rollan 80 NT sliding doors with leaf weights of up to 40 kilograms.
Innovative interior design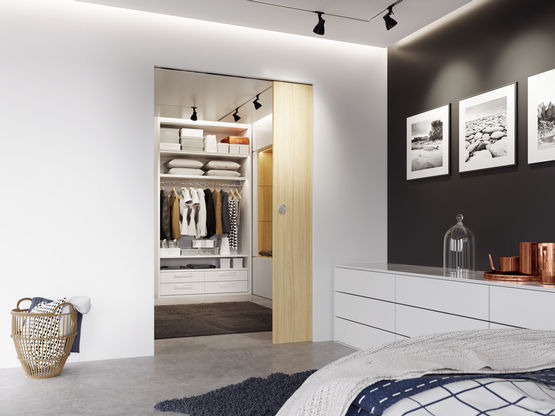 © GEZE GmbH
Whether used as a partition wall or to separate walk-in wardrobes, for example: the new variants of the Rollan NT sliding fitting system from GEZE promise smart solutions for interior sliding doors. While the Rollan 40 NT moves door leaves with a weight of up to 40 kilograms, the Rollan 80 NT also opens sliding doors with a leaf weight of up to 80 kilograms. And all while being exceptionally light and quiet.
Benefits of the new sliding fitting system roller carriages: Thanks to the low initial friction (< 25 N), the door fitting can also be used in rooms that are required to offer accessibility for all. If required, the Rollan 80 NT version can be fitted with a draw-in damping to door leaf weights up to 40 kilograms – without restricting the leaf width. The Rollan 80 NT SoftStop can be used one-sided or double-sided, and also increases sliding ease and safety.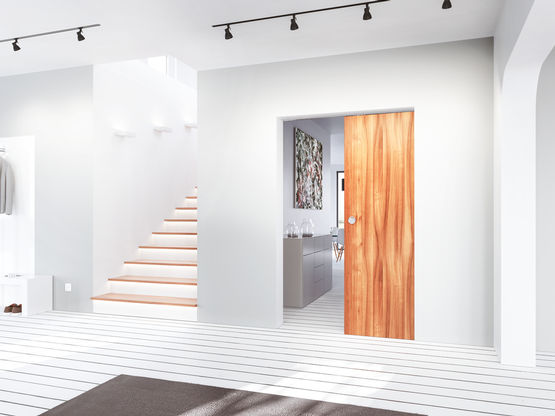 Sliding door fitting Rollan 80 NT with SoftStop draw-in damper, installed in a residential building © GEZE GmbH
Installation of the draw-in damper is simple and quick: No changes to the door leaf or alterations to the existing installation situation are required. Installation is also easily performed on existing Rollan fittings solutions: The track does not have to be replaced to retrofit the new roller carriage and optional draw-in damping. This reduces the installation time – simple, efficient and convenient.