Brigitte Vöster-Alber awarded 'Social Market Economy 2016' prize
The Konrad Adenauer Foundation honours Brigitte Vöster-Alber, Chief Executive Officer of GEZE, with the Social Market Economy prize 2016. The prize was awarded by the chairwoman of the jury, Ms Leibinger-Kammüller, and the Minister, Dr Hoffmeister-Kraut.
An outstanding and exemplary businesswoman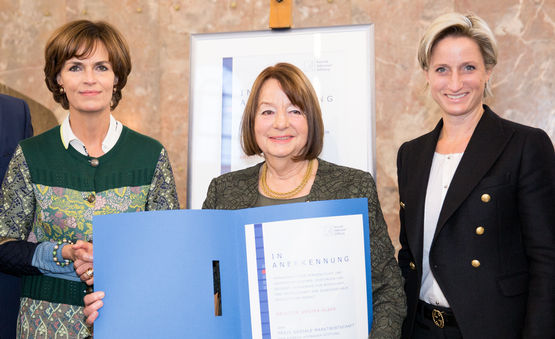 The principles underlying the Social Market Economy are reflected in Brigitte Vöster-Alber's leadership style. She started out in business in 1968. At the age of just 24, she accepted a huge responsibility when she took over as CEO from her grandfather, Reinhold Vöster. She continued to further develop his social set of values.
"She is the driving force behind the goals of the family business, and the guardian of its values. For example, she advocates a broad entrepreneurial vision, the capacity for innovation, and takes a high level of responsibility for the company's employees, the wider society, and the environment," said the jury in its statement. Brigitte Vöster-Alber accepted the prize on 13 October 2016 as the 14th recipient. The ceremony, attended by around 300 guests, was held in in Paulskirche (St Paul's Church) in Frankfurt in the presence of Minister Nicole Hoffmeister-Kraut, Mayoress Petra Roth and councillor Dr Bernd Heidenreich.
One step ahead of the future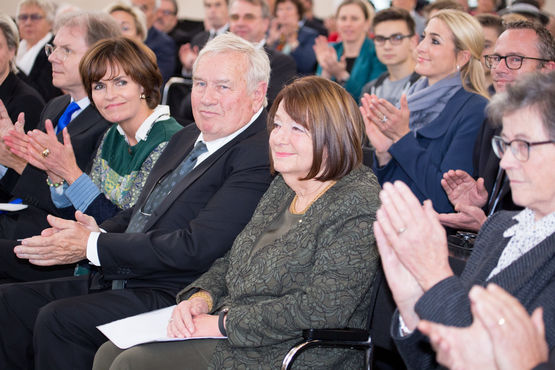 Brigitte Vöster-Alber's priorities are to think and act with a view to the long-term, achieve organic growth and create long-term, sustainable revenue rather than maximising profits in the short-term. The number of employees, currently just under 2,800, has been increasing for some years. The equity ratio secures the company's independence. It enabled GEZE to survive the 2008 financial and economic crisis, and even make anti-cyclical investments which are paying off today. In 2009, GEZE itself invested close to 30 million euro in expansion activities abroad. Internationalisation as one of the cornerstones of the corporate strategy, 31 subsidiaries, 27 of them abroad, and manufacturing facilities in China and East Europe strengthen the sites in Germany.
Although operating globally, Brigitte Vöster-Alber is committed to Germany as the company's primary development and production location. Since 2010, GEZE has invested around 24 million euro in erecting and expanding buildings, state-of-the-art technological facilities, and manufacturing and logistics systems at its headquarters in Leonberg. A new production facility was commissioned in 2015. A new development centre which opened in 2017 has laid the foundation for further future-oriented innovations, and new products have already been created. This should guarantee the company's success and growth in the coming years and generate additional, attractive jobs.
Attractive jobs – the power of innovation as a corporate principle
In recognition of its innovation management, GEZE this year won the prestigious 'Top 100' award for the seventh time, making it one of the most innovative companies in Germany. With its premium products, GEZE is a global market leader in door, window and safety technology. By developing innovative solutions, GEZE is anticipating market demand for increased comfort and safety in building technology. Maximum benefits, universal design, multifunctionality, connectivity and operation via the internet will define the doors and windows of the future.
The latest innovations are interface modules for networking GEZE products and systems in a 'Smart Building'. The latest awards, such as the PROTECTOR Award for safety technology in Silver for the new IQ box KNX interface solution confirm the significance of these innovations.
GEZE again received the 'Top Employer Germany' and 'Top Employer for Engineers' awards for its excellent personnel management. Employees are encouraged individually, because it is these best qualified specialists and managers who really make the difference in a highly specialist technology company. GEZE offers training positions and dual study opportunities across a range of specialist disciplines, as well as attractive development prospects for trainees, young professionals and experienced practitioners.
GEZE is particularly proud to belong to the category of employers that are the most in demand, including among engineers. Targeted investment is made in the development of engineers, and systematic innovation management is practised with enthusiasm. Employees are offered freedom in their work, which is particularly important in the product development processes. Supporting well-qualified staff and balancing work and family with individual working models and home office employment opportunities are firmly anchored within the HR policy. At 28 per cent, the current proportion of women in management and other positions is exceptionally high, and has increased by around a half in recent years.
Corporate Social Responsibility
Within GEZE, Brigitte Vöster-Alber has created a tradition over the decades from what is now associated with this modern term. Its social commitments range from financially supporting medical, social and cultural educational facilities through to spontaneous aid campaigns. GEZE has for many years been supporting the Olgäle Foundation for Sick Children (Olgäle-Stiftung für das kranke Kind e.V.). Its six-figure financial donations benefit the new and highly specialist Olgahospital children's clinic in Stuttgart. In 2013, the year in which the company celebrated its 150th anniversary, it also started to support the child welfare agency Plan International Deutschland with 150 sponsorships. A new child is sponsored each year, so now 153 children are benefiting from GEZE's assistance. In 2009, Brigitte Vöster-Alber was awarded the Order of Merit of the Federal Republic of Germany for her exceptional commitment as a businesswoman.