Brigitte Vöster-Alber has received an award from the state of Baden-Württemberg
Brigitte Vöster-Alber, Chief Executive Officer of GEZE GmbH, has received the Business Medal of the state of Baden-Württemberg. It is awarded to people and companies who have rendered outstanding services to business in Baden-Württemberg.
Business Medal for entrepreneurial and commercial accomplishments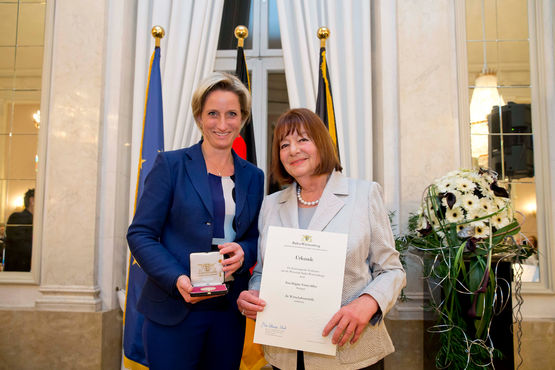 The Minister of Economic Affairs, Dr Nicole Hoffmeister-Kraut, congratulated Brigitte Vöster-Alber on the Business Medal of the state of Baden-Württemberg. The prestigious prize, awarded as part of a ceremony at Neues Schloss (the New Palace) in Stuttgart, was earned from many years of entrepreneurial and social accomplishments as the head of the company, and represents another highlight of her work.
"With GEZE, you have been successfully leading a globally operating family business for over 48 years, a company that is a market and innovation leader in door, window and safety technology. Your modern, future-focused thinking makes a significant contribution to the success of the company. Supporting women and balancing work and family are also part of the pioneering activities in your company. By creating and maintaining jobs and offering numerous training possibilities for young people, you show a clear commitment to Baden-Württemberg," praised Minister Hoffmeister-Kraut.
In addition to Brigitte Vöster-Alber's entrepreneurial accomplishments, the Minister also stressed her many years of community and social commitment, including support for the Olgäle Foundation for Sick Children in Stuttgart (Olgäle-Stiftung für das kranke Kind e.V.), and for art, culture and sport. It is therefore no surprise that she had already been honoured with the Federal Cross of Merit and the Konrad Adenauer Foundation Social Market Economy prize, and was appointed an honorary citizen of the town of Leonberg in 2013.
One step ahead of the future
Brigitte Vöster-Alber's priorities are far-sighted thinking and action, organic growth and the fundamental principle of long-term, sustainable revenue. With a workforce of almost 2,800, employee numbers have been increasing for some years. Operating globally, she has committed her company to ensuring that Germany remains its primary development and production location. The company's international activities through its 31 subsidiaries, 27 of them abroad, consolidate the sites here in Germany.
Since 2010, GEZE has invested around 24 million eruo in erecting and expanding its buildings, in state-of-the-art technological facilities, and in manufacturing and logistics systems at its headquarters in Leonberg. The company is laying down the building blocks for the innovations that will shape the future, and guarantee the success of the company and its growth in the coming years as well as creating additional attractive jobs.
Attractive jobs – innovative strength as a corporate principle
In recognition of its innovation management, GEZE this year won the prestigious "'Top 100' award for the seventh time, making it one of the most innovative companies in Germany. The company was again awarded the Top Employer Germany and the Top Employer for Engineers prizes for its excellent personnel management.
Brigitte Vöster-Alber is particularly proud of the fact that GEZE is also one of the most sought-after employers for engineers. Employees are encouraged individually, because it is the most qualified specialists and managers who will really make the difference in a highly specialist technology company. GEZE offers training positions and dual study opportunities across a range of fields. GEZE encourages a good work/life balance, including individual working models and home office employment opportunities.